If you have used Amazon Prime in the past and you have dabbled in Amazon channels subscription, you have probably come across Starz subscription on Amazon. Starz is one of the premium streaming services you can subscribe to on Amazon to give you access to amazing videos for an amount worth the price.
This article will discuss how to cancel Starz subscription Amazon, the reasons you may want to consider this, and other things that are related to Starz Amazon. Do have a wonderful time reading about Starz as well as its alternatives.
Cancel Starz subscription Amazon: All you need to know
Starz is one of the third-party channels offered by Amazon to keep everything centralised. Through the service, you do not have to switch between applications and expose your credit card details on all of these platforms.
This video channel is owned by Lionsgate and in addition to a 24-hour channel, it offers a traditional on-demand subscription channel. Starz makes all of its content available to channel subscribers as well as streaming-only subscribers.
You could use Starz in a few ways: you could subscribe to the channel through Amazon or have the Starz application on your mobile phone. If you prefer house TVs, you could also use Starz at home.
You get a free trial with Starz when you subscribe to the service through Amazon, although you would be required to submit your credit card details beforehand. You could, however, cancel your membership before this free trial runs out.
Why use Starz?
Starz is one of the great options you will find today, although the rise of Netflix has seen Starz go down the pecking order.
Starz lets you stream your favourite shows on any device that you own. To prepare for when you have no access to the internet, Starz lets you save shows on your mobile for offline viewing.
Starz subscriptions give you great value for your money. At $8.99 per month, you enjoy a cord-cutting life.
It should be noted that while you can subscribe to this service on Amazon, it might be cost-effective to use the service through the Starz app, which similar to the Amazon application, can be used anywhere. Starz mobile application has support for several devices. These include Kindle Fire Tablet, Kindle Fire Phone, Amazon Fire Stick, Amazon Fire TV, Apple TV, iPhone, iPad, iPod, Xbox One, Xbox One X, Xbox One S, and Select Smart TVs.
Other than providing service to you on any mobile device you could own in 2022, Starz allows you a rich of functionalities. One of these is its support for offline content when you are not connected to the internet.
How to cancel Starz subscription Amazon on the website
You can cancel your Starz subscription on Amazon by visiting your Amazon Prime. You can do that easily by clicking here. You probably will need to enter your password to proceed and pass a reCaptcha test. Upon successful login, you will see a screen like the one below.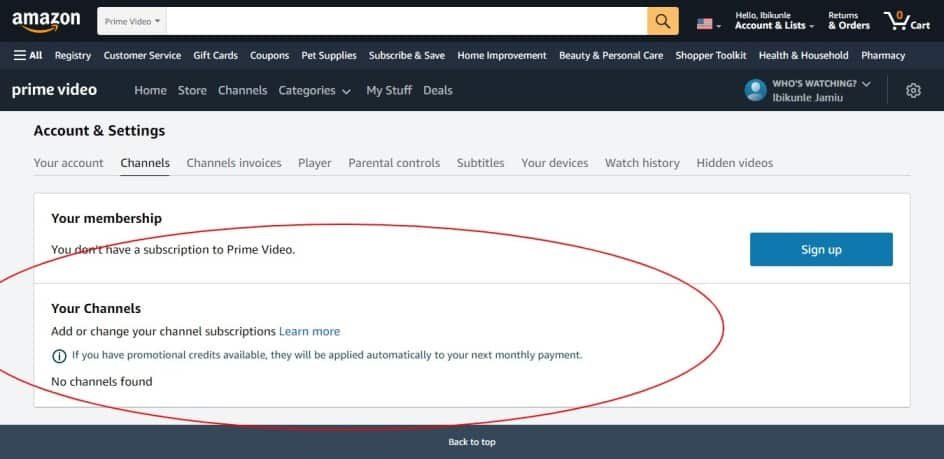 You should see the channels you are subscribed to in the circled part of the screenshot. If there is nothing there, it is because you have not subscribed to any video channel.
If you are subscribed to the Starz channel on Amazon, you can proceed to the channel and click Cancel Channel. You will find this in front of Starz.
Read also; What is Amazon Digital?
How do I cancel Starz on Amazon Mobile?
Cancelling your Starz membership on the Amazon application is similar to the website.
Open your Amazon application and click on the profile icon from the navigation bar.
Scroll down till you see Membership and subscriptions.
Look for the Starz channel and click on cancel to revoke your membership to the channel.
How do I cancel Starz free trial on Amazon Prime?
One of the reasons free trials exist is to give you a glimpse of the service you will be getting. If you think the service is underwhelming and is not worth your money, you can cancel your subscription to the plan before it runs out.
To cancel Starz subscription Amazon on free trial:
Keep track of the date you started using Starz on a free trial.
Cancel your subscription no later than 29 days from this day.
Proceed to the Amazon website or the mobile application and look for Membership and subscriptions.
Look for the Starz channel and click/tap on cancel subscription.
How to cancel Amazon Prime membership
Amazon Prime is your link to Starz on the platform. Usually, when you cancel your Starz subscription, you may want to cancel your membership to Amazon Prime also.
You can cancel your membership by looking for Membership & Subscriptions under Account & Lists and proceeding to cancel the particular subscription you no longer want.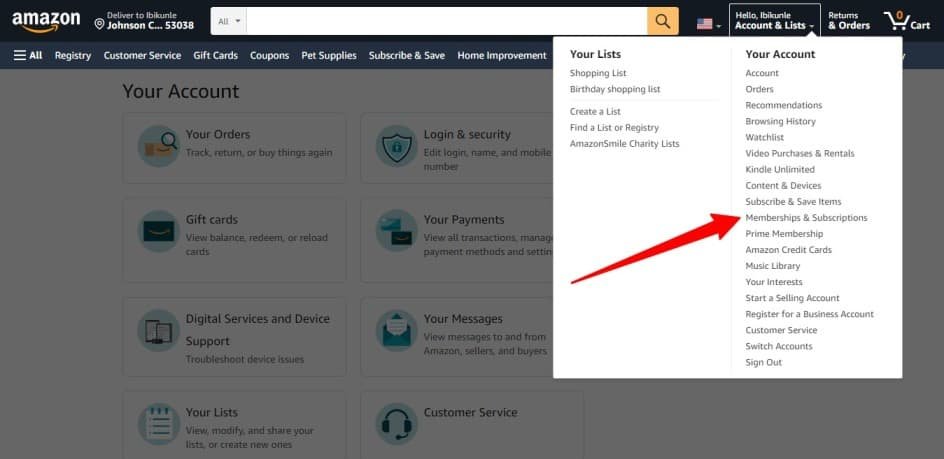 How to remove card details on Amazon
There are cases where you cancel your subscription to a certain Amazon channel and you still get charged. For whatever reason that may have caused this, you may want to remove your card details until it has been resolved, in the case you file a complaint with Amazon customer care.
You can remove your card details on Amazon by following the steps below:
Proceed to your account by hovering on Account & Lists. Look for Account and click on this option.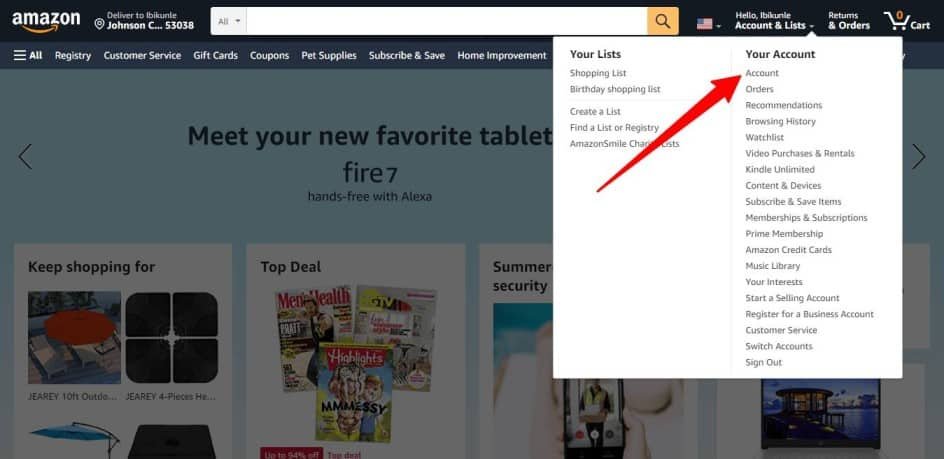 Proceed by clicking on Payment Methods. This will redirect you to the page where you remove any card that is connected to your account.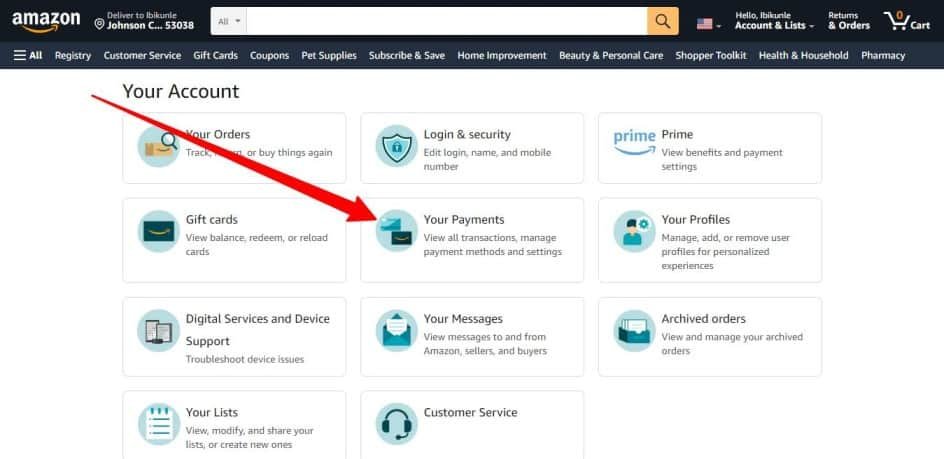 Take advantage of free trials on Starz
You can take advantage of free trials available on Amazon and Starz by using this service for the first 30 days. Before your free trial expires, you could cancel the subscription and move on to a new one.
To subscribe to Starz channel, you must be an Amazon Prime user. Amazon Prime charges $14.99 every month. For subscribers who qualify for government assistance, they receive an Amazon Prime membership at $6.99 per month.
To get started with Amazon channel subscriptions, sign in to your Amazon account and proceed to the homepage.
Hover on Account & Lists. This will show a drop-down menu from where you can proceed to your account. Alternatively, you may proceed to your account directly from here.
Look for Prime from the options. It should be towards the right of the screen.
You will be redirected to a page that welcomes you to Amazon Prime. You should see a screen like the one below. To activate your Amazon Prime membership, click on Start your free 30-day trial.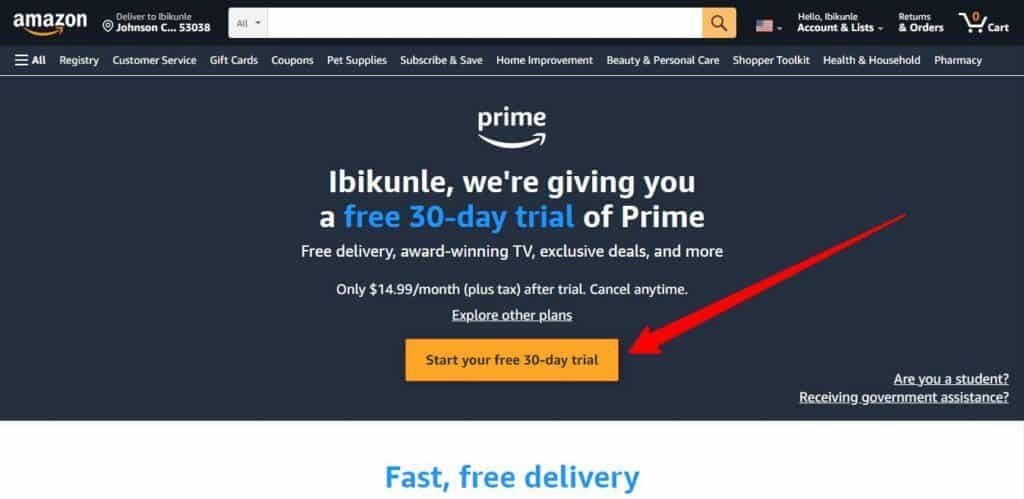 Scroll down till you see options telling you to pick a payment method. If you have a credit card or any payment method connected to your account beforehand, you should see the card as one of the options. You can add a new credit/debit card or use a gift card from here.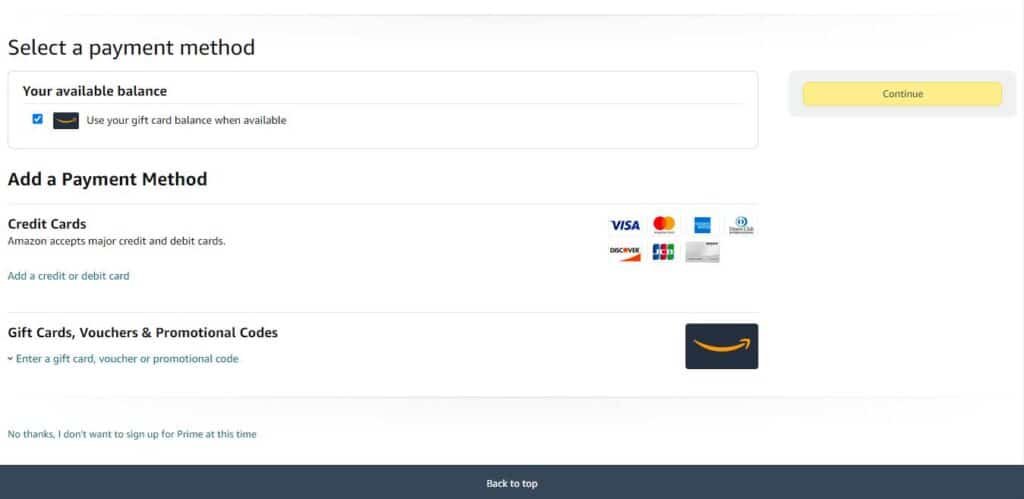 Upon successful payment, you can proceed to subscribe to Starz on the website.
FAQs