As we go about our daily lives, there is a need for us to always replace or have a replica of the essential things we use. Keys are one of those.
We use keys to lock and keep our properties and other things safe from theft.
However, due to frequent mobility, keys may get lost or broken due to unexpected occurrences.
Making a key copy from the wrong place could be costly and insecure. If you want to know if Walmart makes key copies, then this is the right article for you.
So, does Walmart make keys and key copies? In this article, you will get a detailed explanation of whether Walmart makes keys or not, the type of keys they make, and other essential things you need to know.
Have a nice read!
Does Walmart Make Keys In 2022?
Yes, Walmart duplicates and cuts keys in 2022. Walmart partnered with another company called Minute Key to provide key duplication and cutting services for its customers in-store. The key duplication process is fast, easy to know, and accurate.
The minute key kiosk is found in some Walmart stores. The bright green or lemon color of the kiosk placed on one side of the Walmart store makes it easy enough for it to be identified.
The process of duplicating a key at Walmart is a self-service procedure and Walmart customers can get it done with ease, and without the help of a Walmart associate.
Although Walmart makes key duplication services available to customers, not all keys can be duplicated at Walmart.
What Is The Cost of Making Keys at Walmart?
If you want to make a key at Walmart using the minute key, you will be charged a service fee that ranges from $2 to $6 for a single key.
There are different designs of keys available at the minute key kiosk at Walmart, which is the reason the price of the keys duplicated in the kiosk varies from one another.
You can pay for key duplication at Walmart using your credit card, debit card, or cash. All variations of Visa, Mastercard, and American Express cards are accepted for payment at the Minute Key kiosks.
Moreover, it is important to note that currently, Walmart does not charge a fee to customers who use the minute key kiosks. The money charged to make a duplicate key goes to Minute Key.
Note: Minute key, the company that partnered with Walmart to make duplicate keys, stated that there is no change given back to customers when they pay for the service using cash.
What Type of Keys Are Made At Walmart?
Not all keys can be duplicated at Walmart using the minute key kiosk. The minute key kiosk can only make duplicates of home and office keys.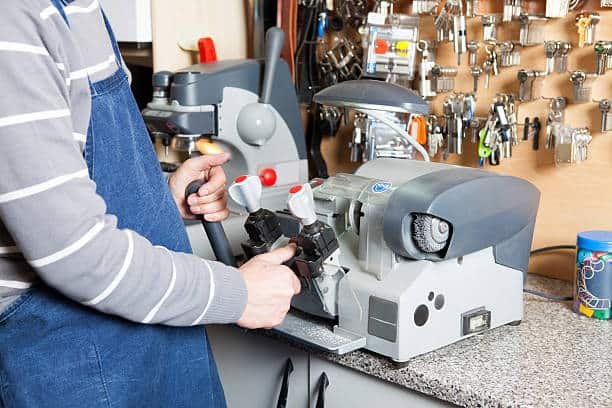 You can as well duplicate some car keys. Although, only a few Minute key kiosks offer that, and not all car keys can be duplicated at the kiosks. Minute Key car key duplication services cover compacts to SUVs, made in any hemisphere. All that is required of you is to identify your car model, and then, you are good to go.
Some of the key types that can be copied at Walmart Minute key kiosks include:
Kwikset
KW1 and KW10 Schlage
SC1 Weiser
WR3 and WR5 (in some areas)
Other keys that may be made less commonly are;
Baldwin
Titan
Clones of all the key types mentioned above.
Padlock key and Master Lock M1 (on a few machines).
Note:
The functionality of the machine in Minute key kiosks may differ from one another; some are more advanced than others.
You do not need to know your key type before you can duplicate your keys at Walmart. The Minute Key machine automatically identifies your key type and duplicates it if it is not prohibited.
Car keys that require programming or high technology can not be done in the self-service kiosks. You will have to contact the Minute Key company for that.
What Type of Keys Are Not Made At Walmart?
As previously mentioned, not all keys can be duplicated at Walmart. High-tech or programmed keys can not be duplicated at the self-service kiosks. Only the Minute Key company will help you with that.
Also, restricted keys can not be duplicated. Keys that are marked Do Not Duplicate or Do Not Copy are not available for duplication at Walmart.
Keys to access school buildings, prisons, banks, and other high-security public institutions can not be duplicated as well unless the request for duplication was made officially by the management of the concerned institution.
Read Also: Walmart Carpet Cleaner Rental in 2022
Where In Walmart Are Keys Made?
Keys are duplicated in Walmart in lemon or green kiosks on one side of the stores. The kiosks have a minute key placard pointing out above them to show they are there.
Also, the kiosks where keys are duplicated have markings of Minute Key on them. So they are easily identifiable.
Not all Walmart stores have Minute Key kiosks. You can use the Walmart store finder guide to know the Walmart stores that have Minute Key Kiosks in them. This will save you time, money, and energy as well.
If you find it hard to locate the Minute Key kiosks in the confirmed Walmart store near you, you should proceed to the customer service desk to ask for directions or use the Walmart Store Assistant; you can find the guide in the linked article above as well.
How Do I Make Keys at Walmart?
Making keys is easy using the Minute Key kiosks. Place your key in the machine, pick the design you want and the number of key copies you would like.
The machine will do the rest of the work. Also, your payment method will be required before the machine proceeds to duplicate the keys.
How Long Does It Take To Make Keys At Walmart?
If you want to duplicate or make keys at Walmart, it takes less than 2 minutes before you get your duplicated key.
The only reason you might take longer is if you meet other people in the queue who want to make keys as well. You should not spend beyond 15 minutes in the queue unless it is a long one.
Also, note that you can duplicate your key as long as the Walmart stores are open till the closing hours at Walmart.
What Happens If The Machine Rejects Your Key?
The machine does not reject keys unless in two (2) cases.
The first one is if the key was not properly placed when inserting it into the machine, the machine will reject it. Always follow the directions on the kiosk.
The second reason the machine may reject the key after it has been properly placed is that the key is unable to be duplicated by the Minute key kiosk.
Can I Return A Duplicated Key At Walmart?
The Minute Key machine that duplicates keys is more accurate than most hardware stores.
It makes an almost perfect duplicate of your key through the use of computer technology. The laser tracking equipped in the machine produces precision copies that work accurately with the lock.
Minute Key company in partnership with Walmart offers a 100% customer satisfaction guarantee on any key duplicated or copied using their self-service kiosks.
However, customers that feel the duplicated key is not working, which is rare, or are not satisfied with their purchase at the self-service kiosks are urged to fill out the Customer Service form within 30 days of key duplication purchase to request a refund.
You can contact their customer service on this toll-free number as well (800) 539-7571.