There are many reasons why you may want to archive your orders on Amazon and subsequently find archived orders on Amazon. You may have placed an order for someone close to you who has access to your account but you want to keep it a surprise. Archiving orders comes in handy in this scenario.
Whatever reason you may have, this article will provide an answer to all the questions you may have about how to find archived orders on Amazon.
Archived Orders on Amazon: All you need to know
Every order you place on Amazon adds to your history on the app. This serves a lot of purposes in the future as you may want to reorder some of these products or recommend them to a friend.
As good as this feature is, there are times you place some orders you do not want to be accessible to any other person. In this case, the Amazon archive comes into play.
Archived orders on Amazon are previous orders that have been hidden and would require extra work to find by anyone. Archived orders are not deleted, instead, they are placed somewhere harder to reach.
If you purchased an item for someone that knows your login details and fear the surprise would be laid to waste, you may want to try this feature.
Should you be a seller who records a lot of sales and you want to keep your account clean after a product has been sent for delivery, this works too.
How to archive orders on Amazon
Finding archived orders on Amazon is quite straightforward. We will give a walkthrough about how you can do this both on the Amazon website and the application (iOS and Android).
You can archive your orders on the website by following the steps below:
Sign in to your Amazon account by visiting here. This redirects you to the homepage as a signed-in user and in the case of an unauthenticated user, the sign-in page. Your screen should look like the one below.
As seen in the screenshot above, click on Return & Orders to access your previous orders. This will take you to a screen where you can see your previous orders.
From the list of orders, you can then select the order you want to archive. To speed up this process, you can access your orders directly from here.
There will be an option that says Archive Order in front of all the orders. By clicking on this option, you have successfully moved the order to archive and it will no longer appear directly in your orders.
How to archive Amazon orders on mobile devices
You can archive your orders on the Amazon application by following the steps below:
Open the application and wait for it to show the homepage. From here, click on the three hamburger menu at the extreme right of the navigation bar. This is illustrated in the image below.
You will need to select from four options that will be displayed right on top of the navigation bar. Since we want to see our orders and archive them, we will tap on Your Orders.
This will take you to a page where you see your list of orders. If your screen appears like the one below, it means you do not have any previous order and you would need to place one before you can archive it.
You can then tap on Archive Order and the order will be moved to your archive.
How to find archived orders on Amazon Desktop
So you have successfully put a product into your archive, and then a need arose for you to access the order. But how do you go about it?
You can find your archived orders in 4 easy steps on the desktop.
Start by going to the homepage. Upon a successful sign-in, you will see a screen like the one below. Hover on Account & Lists and look for Account. This is usually below Your Account towards the right. Click on this and it will take you to the next step.
Click on Archived orders.
This will redirect you to a page where you see a list of all of your archived orders. If you do not have any item in your archive, you will see a screen like the one below.
How to disable browsing history on Amazon
In case you want to prevent anyone from having an idea about what you have ordered and what products you have viewed in the last few months, you will need more than to archive your account.
You can disable your browsing history on Amazon by following the following steps:
Hover on Account & Lists and click on Browsing history.
Click on Manage History.
Toggle the switch in front of Turn Browsing History On/Off
You have successfully set up your account not to keep track of your browsing history anymore.
How to deactivate your account on Amazon
You probably want to do more than just disable your browsing history and archive your orders. There are times you may want to permanently disable your Amazon account for some reason.
Unlike many other platforms on the internet, Amazon makes it hard to deactivate an account after you have created one. But that is the purpose of this chapter. We will walk you through the process of disabling your Amazon account in easy steps.
Access your account from here. You should see a screen like the one below.
Scroll down till you see Close Your Amazon Account. Since this is our intention, we are only interested in this option.
You will be redirected to a page where Amazon warns you about all of its services you will be closing by deactivating your account.
If you have resolved to close your account and disable your access to these services, scroll down till you see the screen below. Check the box that says Yes, I want to permanently close my Amazon Account, delete my data and click Close My Account.
You will be sent an email that asks you to confirm if you want to truly delete your account. You can either abort it or go forward with it from here.
Hint: You cannot close your Amazon account if you have orders that have either not been delivered or are on the move. You would have to cancel all of your orders before you can finalise the deletion of your account.
How to deactivate your account on Amazon mobile application
The procedure for deleting your Amazon account on the mobile application is similar to the one for desktop. However, you can follow the steps below to deactivate your account.
You may want to know that similar to the desktop deletion, you will need to wait for a little for the deletion to be finalised. Typically, you will be notified by email when this process has been completed.
On the navigation bar, tap on the icon that represents the profile. This usually looks like a default avatar. Scroll down till you see an option that says Close your Account. This is the option we will click.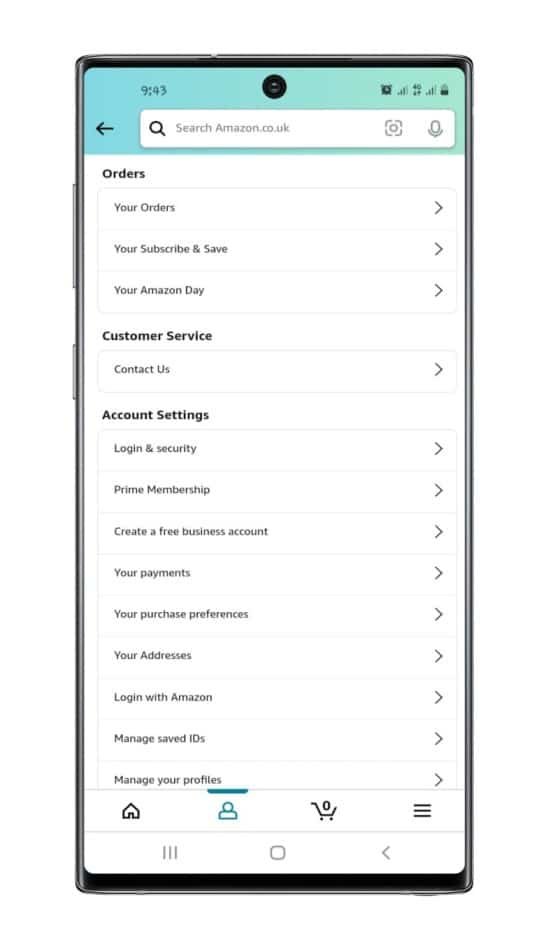 After the redirection, you will see the screen below. Scroll to the end of the page.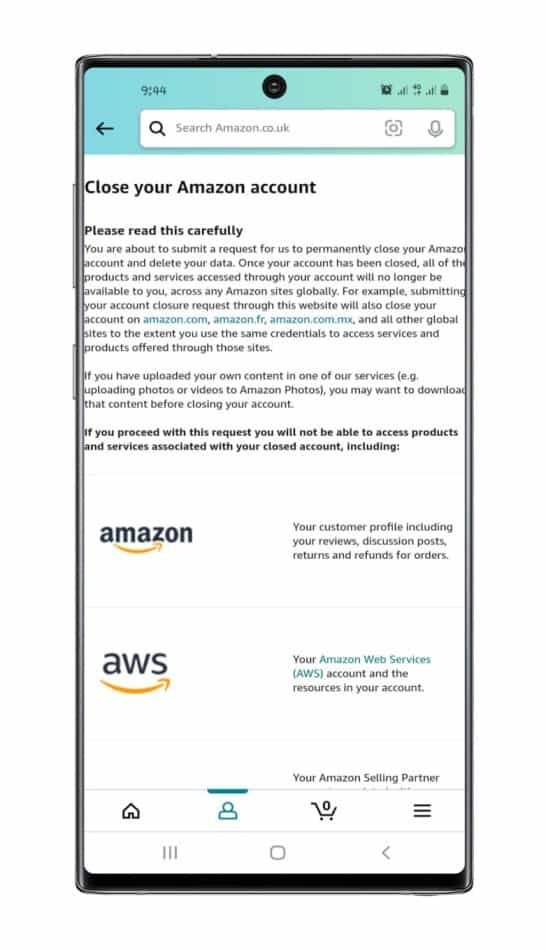 From here, you can check the Yes, I want to permanently close my Amazon account and delete my data.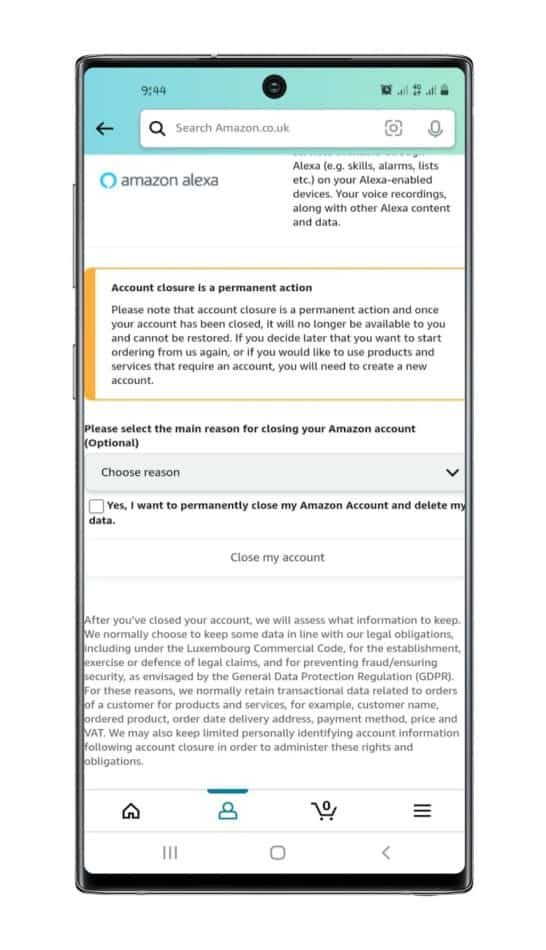 You will need to wait for a few days to receive an email from customer care that informs you that your account has been deleted. You may have to confirm beforehand that you want to go through with the deletion.
What happens when you delete your Amazon account
Deleting your Amazon account goes beyond removing your data alone. That is why Amazon makes the process a little tricky, tough, and long.
Here are the things that happen when you delete your Amazon account:
You will lose access to all of your Amazon accounts. This includes Audible.com and accounts on different country domains (like amazon.co.uk and amazon.de).
You will no longer be able to use your Amazon gift cards or other vouchers.
You will lose access to all the digital content linked to your account, like Kindle eBooks, digital music, Amazon apps, and Amazon Prime.
You will lose access to the content in your Games and Software Library.
If you have servers or web applications hosted on Amazon Web Services (AWS), you will lose access to these too.
You will not be able to return or refund items ordered by that account.
All reviews you have left for your favourite sellers in the past, your posts, and other social content will be removed permanently.
Although this deletes your data on Amazon, your order history will still be accessible to sellers as they are available on their accounts.
How to reopen a closed Amazon account
Even after finalising the deletion process of your account, you will be granted 90 days to reverse your action if you have a change of heart.
Once you have chosen to close your account, the only way to regain it is by contacting Amazon customer service. Your identity will need to be verified, and you will need to create a new password.
You may want to take note that there is no guarantee that your closed account will be reopened. This decision rests entirely on whether Amazon customer service deems your reason cogent enough or not.
Why delete your Amazon account
It is easy to understand why someone may want to delete their Amazon account for security reasons. Below are reasons why a user might be prompted to do this.
You want to ensure your history on Amazon is wiped clean. You probably ordered a few products in the past that you do not want to be linked to you by anyone and you think you would close the account that is attached to it and reopen another.
You no longer want to support Amazon's business practices. This can root in ethical grounds, religious reasons, or other reasons that are known to you. Whatever reason it is, you are entitled to pledge your support or disapproval of any company.
You do not want Amazon to have access to your financial information anymore. This can happen if you have entered your card details in the past and even saved it. You may fear that Amazon may deduct charges from your account later on and you want to circumvent this from happening. While this is a good enough reason, you may want to only delete your financial information from Amazon.
How to delete card details from Amazon
You may have subscribed to Amazon Prime in the past and you no longer want Amazon to have access to your account as any charge could be deducted anytime. While this is possible, it is highly unlikely unless one of the services you are subscribed to requires it.
Below are the steps to delete your financial information on Amazon.
Hover on Account & Lists and look for Account. Click on this option to proceed.
You will be redirected to your account's page. Look for Your Payments and click on this option.
Ideally, you should be redirected to your wallets. Kindly confirm what you are in the correct section by contrasting the highlighted part in the screenshot below with the screen you have on your desktop.
You can then proceed to the particular card and click on Remove Card. This should finalise the process.
Hint: You can add another card to your account by following these steps. The only difference is that while you would have to look for a card you want to delete in the previous chapter, you will click on Add a payment method to add a new card to your account.
FAQs